Specialist Tungsten Carbide Punch & Die Tooling
Doutt Tool supplies carbide dies, punches and hardened steel precision tooling to leading automotive, aerospace, medical, electronic and consumer manufacturing industries across the US and in Canada, we also ship to engineering companies in the UK, India and Mexico.
The most critical customers for our tungsten carbide wear parts are your toolmakers, you can rest easy knowing we'll always go the extra mile to keep them happy with our products.
Die Set Build and Test Service
Doutt Tool will build new progressive dies exactly to your design requirements. We offer complete manufacturing and debugging service in-house. We can refurbish your worn tooling to OEM standards or modify outdated tools for a new lease of life. We'll provide help and expertise to remanufacture, saving on energy and resource costs to rebuild old as new.
CUSTOM BUILDS
REMANUFACTURE
Latest Equipment News
Introducing Doutt Tool's latest tooling asset - Mitsubishi MV1200-R Advance +3 WEDM

Mitsubishi's latest and greatest, our newest high precision wire cutting machine is reliable and supremely accurate with new cylindrical drive technology. By using a linear magnetic shaft motor with optical servos, backlash and wear is eliminated, delivering precision machining with speed and accuracy.
By improving on our batch processing speeds and developing our efficiency and performance, we offer our customers a great deal. Check us out for your next machining quote.
Machine Specifications
Cutting Size (X,Y,Z) 15.7" 11.8" 8.7" Accuracy ±0.0001" or better Surface Finish 6 Ra


Another new addition for even more flexibility - Mitsubishi MV2400-R Advance +2 WEDM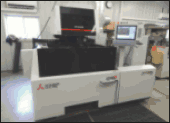 This Large Capacity Wire EDM will cope with projects that other tool shops cannot handle - an option for one seamless process to produce large discrete dies.
Capable of holding workpieces 41.3" x 32" x 16" with a maximum weight of 3300lb, this also improves the yield of multiple parts from one billet of materiel and reduces machine setup times. These cost and time savings are reflected in our competitive quotes and fast lead times.
Machine Specifications
Cutting Size (X,Y,Z) 23.6" 15.7" 12.2" Accuracy ±0.0001" or better Surface Finish 8 Ra


Our newest sinker EDM, and the latest machine in its class - Makino EDAF2 CNC EDM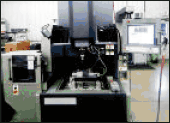 With this machine we can offer our customers high-speed die sinking with remarkable accuracy and high surface finish.
The 16 Station Tool Changer allied with the speed and repeatability of this machine will make our price quotes even more competitive. We can achieve 6-8 RMS and by building in the Carbide Machining Circuitry (CMC) option, we have a specified machine that can Sinker EDM as well as any on the market. Check our quotes for both high volume and short runs.
Machine Specifications
Cutting Size (X,Y,Z) 13.8" 9.8" 9.8" Accuracy ±0.0001" or better Surface Finish #6-8 RMS
Quality Guaranteed
We know that to run production machines 24/7 demands 100% reliable and interchangeable tooling, so we guarantee every part we supply to our customers.
We also guarantee that, if ever you have a problem, you won't get evasive answers from us because our long term future in this business depends entirely on your success.
Our investment in equipment and training will reduce your costs and shorten delivery times.
Doutt Tool Inc is an ISO 9001:2008 registered company.
Costs Reduced
Doutt Tool will reduce your tooling costs by analyzing every job quote, we choose the most cost effective production method consistent with your specified tolerances and surface finish.
That means we never wire edm a part just because it's easy to cost out and program.
We select operations that best suit your design, whether that be milling, edm or jig grinding, our fast and expert machining always translates into dollars saved on your tooling costs.
Design Help
We can often help by suggesting alternative tooling methods to suit your requirements.
For example, we prototyped various shapes to help solve a die packing problem, one version solved the problem and increased tool life by 300% between regrinds, then tweaking the locking feature gave three more regrinds to the working life of the component.
Of course, we sold fewer dies but we do prefer that when it's Doutt's name on your tooling.
These improvements generated more new business for us - a good result all round.
In another instance, during a brief discussion with the designer, we identified one excessively tight tolerance on a component. A minor change of .0002" to .002" slashed thirty percent off the price he expected to pay without compromising the design quality.
Just two small partnership success stories, but it's small wins like these that are saving our customers thousands of dollars on their engineering budgets every year.
More Savings
We also deliver savings by calculating the most economical batch sizes for your spares orders, we can arrange to have parts plated or coated for you to reduce your handling costs.
For established customers, we can take advantage of the economics of manufacture and keep your spares held ready for immediate delivery. Thus you can spread your purchasing outlay and we can pass on real cash savings to be made against set up costs.
Now it's possible to keep your spares inventory low without risk to your production capabilities while at the same time reducing your overall maintenance operating costs.
Contact Us
So, come in and look around or call us with your requirements,
if you fax or email a print we'll come back fast with a competitive price
Use this fast quote link to send a drawing for our immediate attention.
Thanks for visiting Doutt Tool.